Blog Archives
I had the great opportunity to read this book this past weekend and all I can
say is, Where was this book when I was growing up? Especially now in the summer, parents run out of ideas of things to do with their children while at home and why not do something that not only is fun but that matters. I also can see how this book has the great potential to help teachers develop so many skills for children.
This book encourages children to explore who they are, as well as their dreams. In a society where dreams have been dictated by the media, this gives them an opportunity for the children to create dreams of their own. The great thing about the activities in this book is that they can be generalized for all ages as long as the children can write or draw. Each child will feel important and included in the activities.
I enjoyed the real life stories of children who have participated in this project, especially the story about the kid who wrote about the Mustang car. Sorry my readers, you know I don't like to give too many spoilers so you will have to get the book to find out.
I really enjoyed this book. I don't have kids, but I do interact with many and I look forward to introducing them to this concept.
The author of this great book is Joy Dekok. She is the author of 7 published books, a national speaker, author coach, and social media manager for several clients. She and her husband Jon live on 35 acres of field and woods in Minnesota with their dogs Sophie & Tucker. You can find more about Joy's books on her website www.joydekok.com
Church Sex scandals are a hot button topic these days and have maintained high visibility in the media recently.  I was moved to write this because I believe that the passion and intensity surrounding this issue has skewed a lot of people's opinions and perspective and I believe that I can give a more balanced view on this issue.
It is terrible that as a people we have to be watchful even with those who we have been conditioned to trust, namely men and women who claim to come in the name of God. Sex scandals have not been exclusive to the Catholic Church, many preachers and pastors have fallen short of the grace and those things have become public. It is always disappointing.  I think part of the disappointment comes from forgetting these individuals are merely men and women. We have the tendency to elevate their position because of the part they play in our communities, social settings and the body of Christ. The reality is that yes, their responsibility is to lead and teach us about the Lord, but their humanity doesn't leave with their calling.  Actually, as Christians we need to pray harder for our leaders because their attacks and strongholds are often as large as their calling.
I've heard people blaming celibacy for these events. I respectfully disagree. Priests and nuns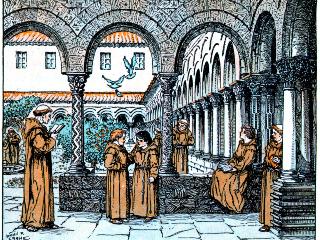 know that this is a requirement of the commitment they have made. If sex was the driving force then priests having relations with Nuns or other secular adults would be just as, if not more, prevalent. The truth is pedophilia, rape, and sexual abuse is not sexually driven. They are driven by a deeper disturbance; it's about control and power more than the sex itself.
 The other part where I respectfully disagree is where it has been commented that because it was male priests with male boys, that it was due to homosexuality. Homosexuality is not equal to pedophilia. Statistics show that the majority of sexual predators are heterosexual.
Now the thing that really bothers me about these cases is the way they have been handled. Whether the abuse was committed by clergy or the man down the street, the inequities in the handling of the situations are abhorrent. The fact that many of these priests were simply relocated to new communities, with no consequences or rehabilitation program, is ridiculous. On top of that, the new communities were not advised of the person's past behavior. If the
church wanted to take care of it internally, like the military handles issues that pertains to soldiers; I don't have issue with that, however, relocating them to another community is unacceptable. Instead they should have been placed in some manner of recovery program and then reassigned to work in a position where they didn't have access to children at all. Is that lack of forgiveness and mercy? No! That's wisdom. Slapping their wrists and telling them to not do it anymore, without true rehabilitation, placing them back into the communities to do more damage, is irresponsible, dangerous and ultimately criminal.
It is hard for me to understand why servants of God would think that this would stay hidden forever?  The word of God says that "Nothing in all creation is hidden from God's sight. Everything is uncovered and laid bare before the eyes of him to whom we must give account" (Hebrews 4:13 NIV) which means that nothing that they were doing was going to remain a secret.
I encourage you to pray for our religious leaders. They have a great responsibility and with it
great lengths of attacks. I pray that they take the authority that has been given to them by their calling and correct appropriately those who have been entrusted to them.
I pray for those who have committed these terrible acts that they find themselves in true repentance before God. That they turn their hearts, make amends when possible and face accountability for their actions.
 I pray for the victims. I hope that their hearts continue to look to God for redemption and
healing. God can restore anyone, and He can restore the souls of these who are suffering and their loved ones.  I encourage you to pray the same
Be blessed.
In the last month two incredible cases have stunned the Hispanic community. It's the death of two children and the main suspects for their departures are their own mothers. I was not there, so I don't know the facts and this is not about making accusations. I just can even fathom how this can happen. My heart is grieved with these stories.
One of these cases is Lorenzo Gonzalez Cacho from my beloved Puerto Rico. This 8 yr old boy went to bed and was found by his sister in a pool of blood. The autopsy shows that he had had wounds in his head from a blunt object and a cut on an eyebrow. He was not taken to medical care until an hour and a half after his discovery; even when the nearest Urgent Care facility was only five minutes away and 911 was never called.
The other case is Paulette Gebara Farah from Mexico. This 4yr old girl had multiple disabilities.
She was unable to speak or walk. She needed constant care 24 hrs to the point where she had a few nannies to care for her in addition to her family. This girl allegedly disappeared from her room. In this case the parents went to the authorities and the press to report her disappearance. A few days later, the girl was found stuffed under the own bed in a plastic bag. Her autopsy revealed that she was asphyxiated.
My purpose with this post is not to judge the events that these to little angels endured. Yes, these are horrific crimes. I pray that those responsible for such horrors be brought to justice. I just want urge all to pray for our children. As part of the body of Christ, all of them are ours, regardless of age, gender or race. Let's pray for their safety and protection.
 "See that you do not look down on one of these little ones. For I tell you that their angels in heaven always see the face of my Father in heaven" (Matthew 18:10 NIV)