As many of you know one of the causes I dearly support is Domestic Violence. When the Ray Rice case came out, like the writer of this post stated, a hashtag was born #WhyIstayed. It was heartbreaking hearing the stories of many survivors explaining how debilitating is the process to leave and even when they had finally realized that they were not treated well, they stayed a while longer.
In this post the author gives this theme a spin and talks about #WhyIleft
Nikewrites Blog
Instead of posting the usual #FlashFictionFriday piece, I've decided to post a poem for Domestic Violence Awareness Month.  This piece is a continuation of the #WhyIStayed hashtag discussion that was started on Twitter last month.  You can read my piece "Why I Stayed," here.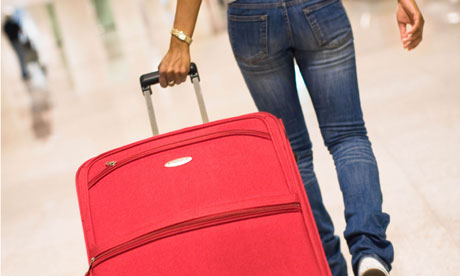 Photograph: Johner Images / Alamy/Alamy As seen on: http://www.theguardian.com/money/2013/apr/27/save-money-holiday-costs
Why I Left
Because I was tired of being controlled and manipulated
Because I was tired being told I was crazy
Because I was tired of being told I didn't measure up
Because he wouldn't, didn't protect my heart
Because being alone in the world no longer mattered,
Especially since I was so alone in my relationship.
Because the love was clearly one-sided.
Because I learned how to love myself more.
Because my child didn't need to witness another fight.
Because I caught a glimpse of my strength
And his weakness was exposed.
Because it was…
View original post 25 more words